Venerable actor Robert De Niro who's starred in such classics as The Godfather Part II, Taxi Driver, Goodfellas, Casino, just to name a few, is also a pretty good business man as well.
Sushi Anyone?
He's co-founder of the popular chain of sushi restaurants called Nobu, which can be found  in over 30 locations in major cities across the globe, including New York, Tokyo and Moscow. One day De Niro was dining in a restaurant in Beverly Hills called Matsuhisa, he loved the food so much he asked the chef, who happened to be the owner, to partner with him in opening a restaurant in New York. Eventually chef Nobuyuki Matsuhisa, agreed and in 1994, the two opened "Nobu New York". The rest as they say is history.
De Niro also owns several Italian restaurants, including Locanda Verde and AGO. In addition to his restaurants, De Niro co-created a new vodka brand, VDKA 6100, and most recently he's announced plans to open a boutique hotel in London . Robert has developed a repeatable blueprint for each of his ventures. In each of them he partnered with expert co-founders in the respective endeavors.
The Key Takeaways
Save! Save! Save! – Get your fetty/guap/paper/bread/money (or whatever they call it these days) up. Save your money and invest it wisely so you'll have resources available to take advantage of the right opportunities when they are presented.
Develop A Skill – Develop a skill or expertise that's in demand. In the case of chef Nobuyuki Matsuhisa, he may not have had the resources to develop a new restaurant but he had the skillset of a chef who spent years honing his craft. When the opportunity presented itself his skills put him in a position to partner with De Niro and create a successful restaurant chain.
Partner With Experts – Partner with experts when entering a business venture. De Niro may know acting and good food but he knew squat about the restaurant business. Partnering with an expert shortened the learning curve saving him time and most importantly cold hard cash. (Believe me, I owned a frozen yogurt shop for a few years before selling it. Initially I didn't know a thing about the business and could have benefitted greatly by partnering with an expert. We live and we learn.)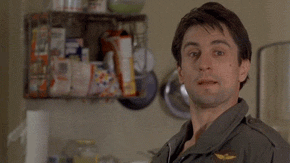 Martel